---
---
Do you suffer pain or discomfort in your neck and upper back? Long office hours starting to show in your neck and shoulders health and condition? Is sedentary sitting causing you neck pain? Cerelief™ All In One Cervical Traction Device is definitely the right choice for you.
LIFE CHANGING
NECK PAIN RELIEF
WHY DO I NEED THIS
The neck is one of the most important parts of your body. Your neck is extremely important because it's what keeps our heads attached to our bodies. Any neck pain, stiffness, injuries, or poor posture could severely damage your oral health and become a serious risk to your body. Our All In One Cervical Traction Device is the ultimate neck pain therapy that will give you RESULTS in just a few uses! 
Millions of people suffer from neck pain due to daily activities, injuries, poor sleeping postures or hunching over the computer and phone. Repetitive use of computers, phones, and tablets makes your head lean forward increasing the weight of your head dramatically gradually causing pain and stiffness. 
Neck pain if not treated could get worse and start affecting other parts of your body. Pain from the neck will start from the neck and shoulders radiating down the arm. More common problems that result from neck pain are headaches, muscle tightness and spasms, weakness of the arms, and stiff neck. 
Cerelief™All In One Cervical Traction is guaranteed to improve your neck pain and tension within 2 weeks or your money back, no questions asked!

EVERYTHING YOU NEED
Cervical traction is an effective therapy for neck pain, tension relief and a number of other medical conditions affecting the neck and spine. It also uses low frequency TENS( Transcutaneous electrical nerve stimulation) pulse principle to simulate a real massage down your neck. It can effectively relieve muscle stress and soothe the pain. 
The Cervical traction takes all the weight off your shoulders and helps to hydrate discs, increase blood circulation and to restore the natural curve of the neck, resulting in not only instant, but also long-lasting relief and comfort.
Our advanced heat function helps with assisting the healing process and alleviate some of your pain. By increasing the temperature and improving circulation, heat can relax injured muscles, heal damaged tissues and improve flexibility.
The integrated heat therapy, cervical traction, and low frequency TENS stimulation is proven by Orthopedists to help you relieve pain and tension in just a few uses!
HOW IT WORKS
Our All In One at-home cervical care system that is ergonomically designed to relieve neck and shoulder pain, keep the cervical vertebra active, retain a proper posture, helps degenerated, bulging, and herniated cervical discs. Cerelief™ is truly excellence-driven physiotherapy equipment that you can have access to right at your home whenever you need it completely safe with zero medications!
INSTANT RELIEF
Feel the instant relief with the dynamic cervical traction pulling apart vertebral space evenly and taking weight of the discs and shoulder. This treats the tension, and tightness helping to relax the muscles, which can significantly relieve pain and stiffness while increasing flexibility.
SOOTHING HEAT THERAPY
Provides 3 adjustable temperature settings to comfort your preference and apply soothing heat therapy to aching neck muscles. This heating therapy delivers gentle heat to tender muscles, increases blood flow and allows muscles to relax. It automatically locks at 50°C to avoid excessive heat.
RELAXING MASSAGE 
 Our device utilizes Bionic TENS (Transcutaneous Electrical Nerve Stimulation) helping to ease tiredness, promote blood circulation, enhance immunity, improve sleeping quality and activate collaterals to relieve your body pain. 
The 12-speed low-frequency massage intensity and 3 types of low-frequency combination of Beat, Acupuncture, Beat and Acupuncture Combination, can be adjusted according to the user's own requirements and preferences.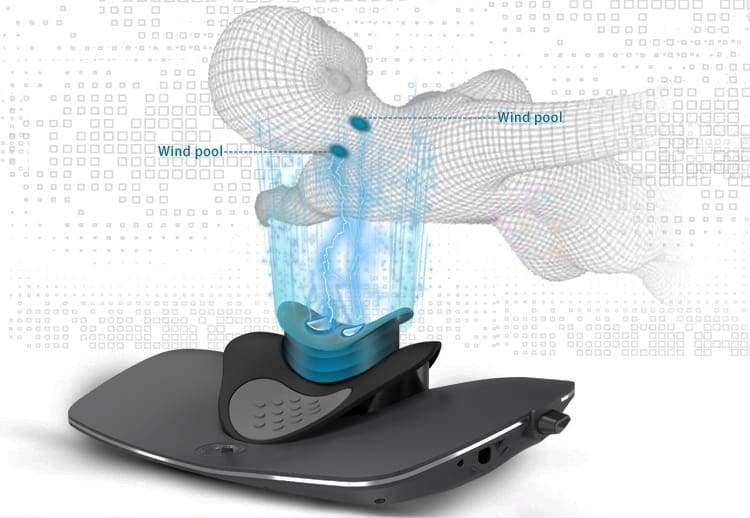 Includes a special feature that allows you to massage your entire body! It comes with an external electrode pads that can be applied to different parts of the body, such as legs, back, feet, joints, arms, and etc. Making it possible to relieve pain in every part of your body, not just in the neck and spine area. 


FEATURES
ALL IN ONE EXPERIENCE
Combine all 3 functions at once to experience the maximum amount of relaxation or adjust the heat and traction individually with the help of an intelligent handheld controller. Each function and frequency combination can be adjusted according to the user's own feeling and preferences.
ERGONOMIC DESIGN
Made of solid, high quality materials and was specifically designed for durability and noise reduction, making sure that you can enjoy your high-level massage in total peace. 
 SAFETY FEATURES 
Airbag Overshoot protection: Automatically stops inflating when the airbag has too much pressure.
Auto-Reset: Automatically turns off if it stays idle for 15 minutes.
High-Temperature Protection: The device automatically locks when the temperature reaches 40-50 degrees which prevents overheating.
☑️ It uses medically proven therapy and patented technology that relieves soreness, fatigue and relaxes muscles.
☑️ One of Cerelief's main benefits is that it effectively treats degenerated, bulging or herniated cervical discs. 
☑️ It utilizes combined Fixed Point Traction and Intelligent Air Pressure Traction System to restore the 26-degree optimal arch of the spine. 
☑️ By gently stretching and decompressing the spinal cord, it helps to increase blood circulation to the structures of the cervical spine, oxygenate the surrounding muscles and relieve pain while promoting relaxation.
☑️ Cerelief™ has been carefully engineered to provide maximum comfort, efficiency, and ease of use and truly makes it possible for anyone to have a professional physiotherapy device at home.
SEE WHAT OTHERS ARE SAYING
PACKAGE & SPECIFICATIONS
1x Cerelief™ Cervical Care System (50*28.5*30CM) 

1x Controller

1x Power Adapter

2x External electric pulse pads

1x External electric pulse cords

1x Users manual
| | |
| --- | --- |
|      NAME |    Cerelief™ All In One Cervical Traction |
|      Impulse frequency |    1-1000MS |
|      Pulse width |    125-500MS |
|      Color  |    BLACK  |
|      Impulse waveform |    Square wave |
|      Temperature range |    40-50℃ |
|      POWER |     ≤12W |
|      VOLTAGE |    12v |
|      Electric current |    ≤1A |
30 DAY MONEY BACK GUARANTEE
We truly believe we have some of the best products in the world, and we want to make sure we back that up with a risk-free 30-day Money Back Guarantee.
If you are not satisfied with our product, we will do our best to make you satisfied. For this, we have a 30-Day money-back policy. For any problem with our product please contact us at support@cerelief.com. 
FAQ's
Question: Will the Cerelief™ All In One Cervical Traction fit my neck?
Answer: Absolutely, it is designed to fit any shape or size neck comfortably. 
Question: How often should I use it?
Answer: For starters, we recommend using it once a day for 3-5 minutes for the first week, 5-7 minutes in the second week and 7-15 minutes in the following weeks.
Question: Is the device FDA approved?
Answer: YES, the Cerelief™ All In One Cervical Traction Device is FDA approved.
Question: How long is the shipping?
Answer: Shipping will take about 7 - 17 days worldwide depending on where you reside.
Any Questions? Contact us at support@cerelief.com or

click here

.
AVAILABLE ONLINE ONLY NOW
---